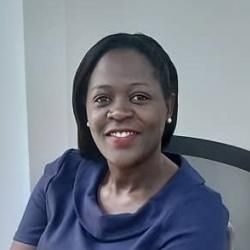 Ms Lindah Nalubanga
Senior National Content Officer – Manpower Regulation
,
Petroleum Authority of Uganda (PAU), Republic of Uganda
Uganda
Lindah Nalubanga Kasiisa is an economist by profession and currently the Senior National Content Officer heading the unit of Man Power Regulation at the Petroleum Authority of Uganda .Previously, she worked with the Office of Auditor General of Uganda in the department of Value for Money as an Economist where she was charged with assessing the efficiency, effectiveness and economy of government programs/projects especially in the field of Energy and Environment. She also contributed greatly as a researcher to the Extractive Resource Hub Project in the United Kingdom in the field of oil and gas.
Lindah holds a Master of Arts in Economic Policy and Planning as well as Master of Science in Energy studies from Makerere University (Uganda) and University of Dundee(United Kingdom) respectively. She has also extensively trained in the areas of local content and performance auditing.
She has over 8 years experience in dealing with regulatory and policy issues surrounding the oil and gas sector and greatly participated in international collaborations with the governments of the oil producing countries such as Norway ,Ghana, Nigeria ,Kenya , southern Sudan in the area of Energy governance. In regards she participated in the performance audits of National content ,Management of petroleum data Environmental Impact Assessments, drilling waste in the petroleum sector of Uganda.
As an Economist she contributed greatly to the introduction of economic models while measuring performance of entities among which the basic econometric models; simulations; sensitivity analysis and the Data Enveloping Analysis (DEA.In addition she has contributed greatly to the development of government strategies, plans and guidelines such as the Energy sector Strategic Audit plan, e-work permit strategy and National Content Guidelines.
She has also been key in directing the skilling for oil and gas sector in Uganda and has greatly contributed to the formation of the Oil and Gas Training Association for Uganda and also selected as a steering committee member to guide the formation of the Busoga International Polytech an Institute that will be key in the training for oil and gas sector.
Lindah has Authored and published papers /articles in the areas of Environment and climate change, Economics, and Energy.
Her hard work earned her a SNAO prize for being part of the team that produced the best performance Audit report in the African Speaking region; a prestige held by her previous office up to date. Consequently, she was recognized as a trainer in performance auditing under the AFROSA-E region and played a great role in introducing performance auditing in Eritrea as well as assessing the preparedness of Uganda to implement the sustainable development goals.